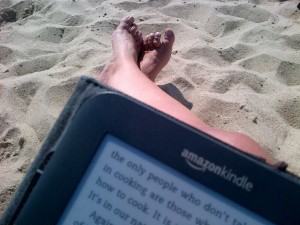 Everyone wake at your own pace, do what you need to do in the morning to get yourself going.  For me that means saddling up the girls (you know I mean the dogs right…) and walking straight down Belmont to the beach.  It's a bit under a mile; we walk the length of the beach once we get there, and then back.  It's a great walk and the girls get out all their excess energy so the day is very relaxed.  Take off my shoes outside the back door and head for the espresso machine.
I have had my share of espresso machines over the years, I even purchased one to keep on the Cape (that is a story in itself), but the one I have now is awesome. Showed everyone how to use it, one touch, hot espresso with a beautiful crema, separate milk aerator and you are golden in under a minute.  Only problem is the amount of coffee I drink now could fuel the entire town of West Harwich. 
Linger over coffee, talk and laugh and talk some more.  Consider breakfast and then all of a sudden we have places to go.  We have a plan; pack up the beach fah fah, off to the Buckey's for breakfast-to-go (you know mine turned into lunch and afternoon snack) and over to Pleasant Road beach we go.  I love Pleasant Road beach, its big enough to spread out, long enough to take a walk and stretch your legs after sitting for hours.  Yep hours.  And it has a bathroom, just sayin, all that coffee has to go somewhere.
It was a perfect September beach day on Monday, low seventies, bright but not searing sunshine, and no wind just a bit of a breeze.  None of us were in bathing suits but rolled up sweats, tank tops and a hoodie (just in case) filled the bill perfectly. We talked, we read, we walked, we slept and we didn't leave until late afternoon.
Off to the store to buy ingredients for dinner, back to the house to pour the first inch of the day and start cooking.  I love cooking with friends, the whole chopping and prepping, sharing of duties in the kitchen really jazzes me up.  I learn so much from cooking with friends about food, about cooking techniques and about them.  Dinner is served on the deck, wine is flowing, animated conversation naturally follows and the day slowly comes to an end.
There you have it, the perfect day on the Cape with friends.