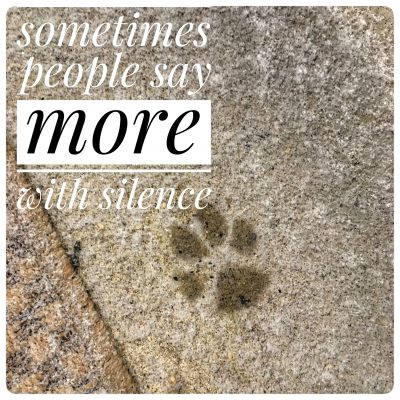 In 2017 I resolved to let go of people, places and things that I would feel compelled to fix. Mind you there usually isn't a request for me to fix something/anything I just feel, well, compelled.  I don't want to feel responsible for the care and feeding of anyone but me for the foreseeable future.  I do, however, reserve the right to jump back in if I can't help myself.
In order to do that I need to listen more and speak less.  It's true that on some occasions I speak louder with silence than I do with words. That is if anybody notices.
This has been an interesting (in the there's more under the surface kind of iceberg analogy of interesting) week for me. It provided an opportunity to put my new found listen (or in this case read) more, talk less technique to the test.
To put some historical perspective on this, several years ago the world lost a fabulous human being.  I was incredibly lucky to call him mentor and friend, as were many, but even more I was privileged to become family. When he passed away a small group of colleagues who felt the loss especially deeply bonded together over their grief and love of this man. We became a club which by definition is an association dedicated to a particular interest or activity. And that we were, until we weren't.
As is the fate of many clubs this one met less and less often and seemed to lose track of its original purpose which was to emulate the man.  To emulate this man was to laugh, chide and hold each other accountable when one or another got outta hand.  It was not unusual to hear him say, what the hell is wrong with you, or snap out of it, or just plain WHATTT, and pull you back into reality.  He understood reality, things change, time marches on, and you can either go with it or bitch about it.  He wasn't a fan of bitching about it.
And so when the "reminder" (complete with copy of the obit) came over email that he would be gone seven years this Saturday my spine twisted.  First, no shit.  Second, I am the last one that needs to be reminded of that because I am still living the legacy he gifted me.  Here on Stowe Lane we say his name every day, there is no better legacy than that.
Then there is the inevitable let's get together, but I can't. I just can't. I've come to know that I can no longer listen to the same conversation over and over as it does nothing to help me (it does nothing to help them) it makes me feel "compelled".  It is completely contrary to the man.
Don't get me wrong he loved a good piece of gossip, what'd ya hear…but he laughed at it and moved on.  And so when the angst started showing through and the lists of people who had been wronged made its way into the email stream I knew that the intent of the get together was not going to be to celebrate the impact he had on our lives but to discuss the perceived slow and painful decent of the company (a company that has been good to me because he showed me how it worked).  WHATTTTT?
And so I said nothing.  I was silent. I have loved these people the better part of my career and they are still in my heart for the support they provided me when I needed it, but if I'm going to move into the third act of my life in the coming years I can't bring this with me. I just can't, especially since the silence went unnoticed. You are missed my friend…