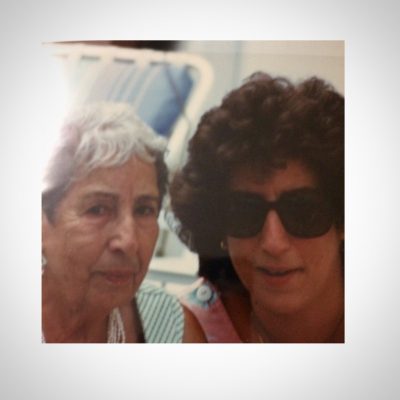 If you sit long enough with a family elder inevitably you will begin to hear "and then there was the time…" something. Some story you may have heard before but listen closely for newly remembered details and ask questions.  Especially the nagging questions.
I had lunch recently with my mother before taking her to her doctor's appointment.  She's a fan of MacDonald's hamburgers and always seems to get talkative when we eat them together.  Just the two of us, no Toti so she's fully present.
She began by saying, and then there was the time I stayed at Aunt Nettie's during the summer when she lived on 42nd St (and 3rd Avenue) across from the Church of the Immaculate Conception. She was on the second floor.  We were three in the bed and every night they would light the statue and it would shine in the window and we could see it from the bed. (When recounting this to my sister she immediately confirmed it would freak – her – out.)
The Church is still there but they are all long out of the city.  She went on to say that Aunt Lucy lived on 1st Avenue so they would make tomato and egg sandwiches and have a picnic in the park. "I made myself a tomato and egg sandwich the other day but it wasn't the same" "I get that, I prefer potato and egg", to which she stated you're just like "Your Aunt".
I knew which Aunt she meant, she never called her by name, she was always "Your Aunt". Taking the mention, I can't help myself, I say, speaking of My Aunt is that how I got to go and stay with her in Astoria when I was a kid?  Was it a thing?
I was asking because as much as it's one of the highlights of my childhood I never understood how it came about.  I figured it was because I was a pain in the ass but she said no. It's because she never had kids so first it was me (my mother) then it was you. I might have mentioned my sister has a theory…
I have very vivid and fond memories of one of the "sleepovers" but in talking with my mother I didn't even remember the other one. The timeline seemed odd, the one I remember was in 1965 the other was in 1967.  Ahhh my sister said, "the year everything changed" (you can be pretty sure you're never going to see a post on that)…is the one my mother remembers most vividly. Interesting on so many levels.
There is insight in the timing but there was more insight in the rest of the conversation. In the end it confirmed the contention that existed between my mother and I and my mother and "My Aunt".  "She had to take charge, nobody could do anything without asking her (did anyone ever try, no I did not ask that question…) she always knew best, she wanted everyone to be like her, do things her way."  Oh boy, I've lived in that space.  In some ways I still live in that space and ironically my mother won't make a decision without "asking Sandi first".
Per my mother she was a pain in the ass, you might have noticed I recognized earlier that I too was a pain in the ass.  But she was important to me, I remember later in her life listening to her lament about being old and not belonging, of not being able to do the things that were so important to her once, like cooking her own meals. Something as seemingly small as a gallon of olive oil being thrown away when she moved from her beloved apartment strickened her. All the while she talked the tears ran down her face.  I remember thinking that no one should have to cry when they get old.
I'm never going to be a mother's daughter, I think we've established that many years ago, and there's a very good chance that I might turn into "My Aunt" with a kinder edge perhaps.  In this past month of ah-ha moments I'm noticing many of her endearing traits coming out in me. Movement is important, cooking for oneself and enjoying what you eat is important, dancing (even just around your living room), truthfulness with a touch of restraint and empathy (she might have missed that part) is important and living life to the fullest you're capable is important.  This she did in spite of her regrets and her highhandedness. She's been gone well over a decade but I have her picture at my desk and discuss things with her often.  There are times I think she'll answer me and a tiny bit of fear crawls up my neck but that's ok, I've also had that effect on people and in the end the goodness always comes through.
I'm looking forward to more of those ….and then there was the time…moments.
Have a good week and look for the ordinary moments, it's where legacy lives.