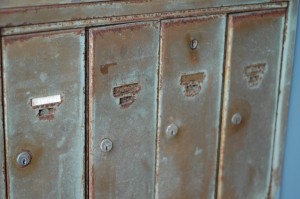 Neither snow nor rain nor heat nor gloom of night stays these couriers from the swift completion of their appointed rounds.
But here's the thing, there aren't enough people sending interesting mail for them to bring on their rounds. By interesting I mean NOT bills, NOT notices, NOT advertisements, NOT coupons, NOT junk.  I mean handwritten notes or letters or cards, or books or anything that doesn't resemble bullshit. You can easily recognize bullshit when you see it, not like you don't remember chain letters, so don't send it.
The art of the handwritten note is dying a slow and painful death and it is breaking my heart. I may have mentioned before that the sight of a colorful envelop in my mail stops me dead in my tracks.  I must open it right there at the mail box and read it over and over on my way back to my door.  Mind you that's only about thirty steps away and I usual can contain myself from jumping up and down but I've got to rip the envelope open immediately.
Joe Baca has said that the Postal Service's unmatched ability to reach every household and business in America six days a week is a vital part of the nation's infrastructure.  Blah blah blah, we all get that but he's talking business, I'm talking love letters, inspirational notes, birthday cards, motivational notes, thanks yous….you remember those.
All the bitching about the price of postage…please.  I once made it my business to send a note every other week to someone going through chemo, all total about eight or ten cards, and the whopping total for that postage came to 3.20 at the time.  Come on, for under four bucks they were surprised with some tiny little note in the mail.  Something that wasn't a bill or a report or work they could do from home.  It was a down and dirty I'm just thinking about you and sending the love.  I will do that again and again and again.
Then there was the time that I inadvertently read a situation so completely wrong that my dear friend Linda actually said she was done with me.  What?  How could I have done that?  How could I have been so wrong?  She wasn't taking my phone calls; the idea that I might never see her again devastated me.  There was only one thing I could do, write my mae culpa in a heartfelt letter.  I thought long and hard and poured my heart into a letter that resulted in a phone call from her that said, come home all is forgiven.  I send cards and letters all the time and Linda has been the recipient of many of them. Come to find out she's saved everything I've ever written her; you see the legacy connection, no?
Perhaps you've heard of Postsecret?  From their website:
PostSecret is an ongoing community art project where people mail
in their secrets anonymously on one side of a homemade postcard.
PostSecret, 13345 Copper Ridge Road, Germantown, MD 20874
The concept of the project was that completely anonymous people decorate a postcard and portray a secret that they had never previously revealed. No restrictions are made on the content of the secret; only that it must be completely truthful and must never have been spoken before. Entries range from admissions of sexual misconduct and criminal activity to confessions of secret desires, embarrassing habits, hopes and dreams. The secrets are meant to be empowering both to the author and to those who read it. Frank Warren claims that the postcards are inspirational to those who read them, have healing powers for those who write them, give hope to people who identify with a stranger's secret, and create an anonymous community acceptance.
You can see more on this from Frank Warren's TED talk:
http://www.ted.com/talks/frank_warren_half_a_million_secrets.html
So it's not just in the receiving it's in the sending as well.  Speaking of sending, there is yet another project called "The World Needs More Love Letters".  From the blog:
In October 2010, Hannah Brencher began writing & leaving love letters all over New York City to ward off the loneliness and depression that ambushed her after graduating from college. Knee-deep in student loans and desperate to know her "place in this world," Brencher's letter writing efforts grew a platform on her blog after she made a promise to the internet: If you emailed her a snail mail address, she would write you a love letter. No questions asked.
http://www.moreloveletters.com/welcome/about/
Another amazing sender was my mother.  Open your lunch box and there it was:
Enjoy your lunch.
Hope you did well on your test.
Love you.
Making your favorite for dinner.
Have fun today.
That was a hundred years ago and today there are websites to tell you what to say, notes you can download or special paper you can purchase.  She was on to something back then and didn't even know it.  It just came from the heart in reaction to something we might have been anxious or excited about.
I've saved so many different types of correspondence all to the end of having them close to me whenever I want.  There are times you simply must hold something against your heart to get the energy of the words to work.  The beautiful cards from Japan from my friend Harumi's mother expressing so beautifully our connection from so long ago.  She's gone now but I can hold her to my heart and think of her.  The notes and cards from all my dear ones, my sister, my summer sister, my bestie, my friends and my family even himself available to me for remembering and honoring.  Most of them were surprises received at the mailbox making them all the more special.
The point is this, if you're considering your legacy there must be some bit of you left behind.  What better way than to express yourself in your own hand and put a stamp on it for someone to do a bit of a jig at the mailbox?  Just sayin…Ordinary Legacy, 3208 Stowe Ln, Mahwah, NJ 07430