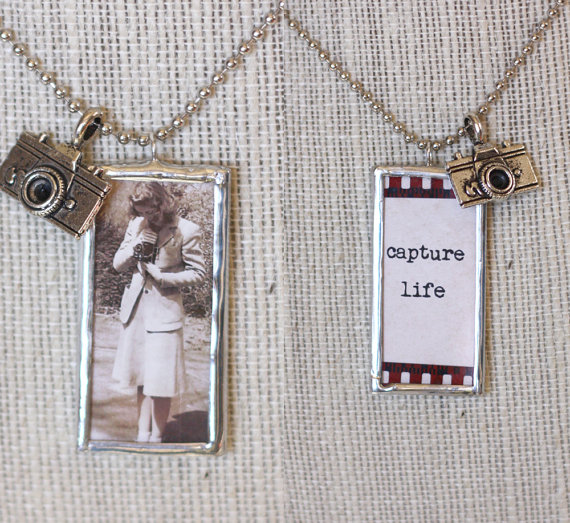 Photo credit: Maureen Nichols, Cottage 960
Is it that you don't know how things work for me?  Picture this (pun intended)…I've got a great camera, Nikon, I've got perspective, someone once told me, and I'm not using it.  Why the hell not?  Who the hell knows?  I believe, no, I know like I know that it's the getting started that's got me.  So….I put it out there and it's just amazing what happens.
Maureen at Cottage960 (www.cottage960.com ) puts a really cool new pendant on her FB page of a woman in a beautiful 1940's era suit, that alone was right up my alley, snapping a picture with her brownie camera.  On the back it says, "Capture Life".  You know I own it now, right?  When I take the girls to get groomed the cashier says to me, "So when you capture life, what are you going to do with it?"  Here I am back at who the hell knows.
Then I get an email from a blog I follow called Super Hero Life (www.superherolife.com )   Subject:  Sad bananas and finding our joy again.  Ok, I'm listening.  Andrea Scher, creative force behind Super Hero Life is sponsoring a Treasure Hunt course starting May 1st.  For a small fee (from the email):
A creative photo prompt each day in your inbox
Photo tips + creative musings to inspire your work
A warm, encouraging community space on Flickr to share your work and support your fellow treasure seekers!
Come on that's perfect and I am in.  I'm all about sparking creative juices.  So I'm signed up and looking forward to getting back into my camera and my perspective.
Then, I'm reading something on Upworthy.com and there's a tiny little glimpse of an ad for this movement, seminar, thing called One Picture Saves a Life.  You can sign up for a seminar at St. Hubert's Animal Welfare Complex (www.sthuberts.org ) to learn how you can become a volunteer to photograph shelter dogs to bring them closer to adoption.  Send an email and if there's room, first come first served, you're in…for free…being taught by Seth Casteel (www.littlefriendsphoto.com ) of Underwater Dogs fame.  You know I sent the email, you know I got invited.
So Saturday morning I take a ride to Madison NJ to St. Hubert's and participate in this seminar that blew me away.  Go to www.onepicturesaves.com to get the full story.  Suffice to say Seth Casteel is an awesome dude, and all of you know I never use the word dude. Generous with his knowledge, he (along with Petfinder, Greater Good, the Animal Rescue Site, and John Paul Pet) put this program together down to the last detail.  He even tells you what lens you need, camera settings, best backgrounds, shelters looking for volunteers.  I tell you I am stoked about this….who better than me, one part of Two Aunts and a Chevy fame to take this on.  It was a great way to spend a Saturday morning, learning with like-minded people, about how to help shelter dogs when you're condo association says you can only have a minimum of two dogs.  I hope the other half of the Two Aunts and a Chevy is listening…just saying Toots you hated Chevy's picture too.  But I digress.
The thing is I don't have the lens, 50mm straight, and you know I looked on line and they cost a small fortune.  So I think let me go down to Bergen County Camera ( www.bergencountycamera.com ) and just look,  yeah right.  Do you know what downtown Westwood, NJ is like on a Saturday afternoon? It's sunny and perfect for a day in one of the best downtowns around so it's jammin.  Oh come on, you know I got a parking space, you know there was an hour left on the meter and you know like you know that BCC had a used 50mm for $79.00.  Of course they did, my sister is saying as she reads this.
My two most willing (not really) subjects (victims) Toto and Lina are being snapped a frame a second. They are giving me the Moooooooom look.  They are taking themselves to bed and having no more of it.  Not to worry I will find other willing (maybe) subjects to snap.  I know like I know that as Karma would have it anything animal related, carried out for their greater good, will only serve to increase your personal Karmic equity.  I will be golden my friends…