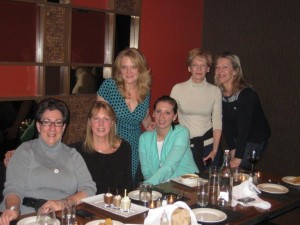 Once upon a style a few dozen pounds ago I could show off a turtleneck sweater with the best of them.  I'm not talking about Nora Ephron hide my neck kind of show off I mean Marilyn Monroe kind of pinup girl show off.
Being stacked is both a blessing and a curse.  Blessing in that men find you attractive and it evens out your damn hips. Curse because you can't, well, play golf for instance.  Furthermore, you can't wear button down shirts that fit your shoulders without busting a button. Get it? 
Many and I mean many, years ago there was a test you could do to decide whether you were able to wear a tube top, you remember those right?  If you could slide a pencil, you remember those too right, under your breast and it fell to the ground you could wear a tube top.  Wear one without looking like those tubes of polenta that start to smush and mush when they get warm that is. Just sayin.  I was NOT one of those girls. 
I was, and still am, one of those women that need a cast iron bra.  The lift and separate using underwire and stays and side panels and four hook kind.  There is no lace or front closure or racer back or, god forbid, padding.  There is minimizing, end of story.
Like many young girls, when I started to develop I thought what the hell am I going to do with these?  To make them less out there I would hunch a bit.  At thirteen you don't want to be attractive to men, you just want to fit in with the other kids.   Posture wasn't as important then and damn am I paying for that now, Dowagers hump here I come.
So now I have to really pay attention and I was reminded of that just recently.  We had a wonderful gathering of women friends to wish one of our own congratulations in her new job.  Truly it was wonderful until the cameras came out. 
I'm a big fan of perfect storms and boy did this one roar in and do some damage.  Combine a few glasses of wine, a relaxed pose (read shitty posture), a well worn in bra (more like tin than iron clad), and a clingy turtleneck sweater and you have a very rude awakening.
So ok pass the cameras around and now let's have a look.  OMG.  Here I go again, what the hell am I going to do with those.  They look a lot like tubes of polenta doing what warm polenta in the tube does.  I can't help but laugh my head off at the sight and the girls, at the dinner that is, did too. The words that spring immediately to mind are Old Italian woman.
While this Old Italian woman is damn glad that her breasts are healthy and tested negative for cancer she is awake now.  So six pounds and three new cast iron, minimizing, foundations (as they were once called) later I have started down the path of redemption.   Breaking in those bras is no easy task as most women are fully (lol) aware.  Someone tell me again why men do not have one piece of clothing that needs to be broken in.  No maybe don't tell me, I don't want to know.
 I'm sure I won't give up turtlenecks because I live in the Northeast and it gets damn cold but I know like I know that rocking a clingy turtleneck like Marilyn Monroe is more about attitude, posture and a damn good bra than anything else.