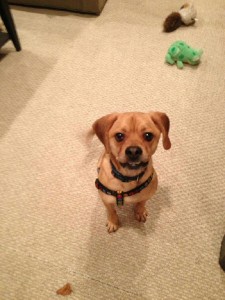 I never knew until that moment how bad it could hurt to lose something you never really had. ~From the television show The Wonder Years
It's one of those lessons you learn over and over again.  In the spirit of Thanksgiving I am grateful that our little Chevy has found a forever home. I'm also sad as hell that it wasn't with Aunt Tootsie.
In a series of funny, happening at the same time, one of us lurking one way while the other was lurking another way texts, our Thanksgiving holiday unfolded something like this:
Me to Toots:  There's a video of our little Chevy on his 11th Hour page.  He's got a foster home. Thought you should know.
Toots to Me:  LOL Thought you should know his foster family couldn't "handle him" so we are taking him home for the weekend until 11th Hour reopens after the holiday.
Me to Toots: LOL that little dog is going to wind up with you yet.
Toots to me et al:  He's back!!!!!!!!!!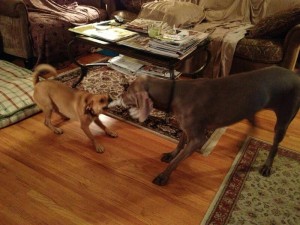 And their holiday unfolded with joy and two dogs playing and the family getting to know him and snuggling on the couch while watching the game, and falling asleep to the sound of small doggy snoring.  Thankfulness all over the place.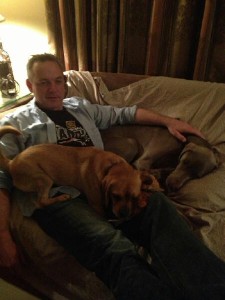 Come Friday, you hear the news you think you were hoping for all along and suddenly you're taking that same damn ride to Mt. Olive again to meet a possible forever family.  Aunt Toots was asked to do the second meet and greet with the prospective forever family.  They passed the application criteria.  They have a puggle girl (according to Toots not as cute as Chevy). They know the breed.  Now the only thing that remains is for the two dogs to meet.
Toots to me et al: Chevy is adopted and has a sister Lulu! I met the family and they are thrilled.  Me…Not so much, I'll miss the little fella.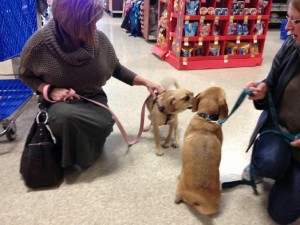 Me to Toots:  You did a wonderful thing Toots, your status in the universe is permanently cemented, love u
Toots to me et al:  ….It's all good.  Lots of tears…again! Mark is taking me for a Bloody Mary.  Love u all.
So in the scheme of things the Bloody Mary will help for a minute but lessening the imprint left on Aunt Tootsie's heart might take a minute or two more.  It's what we want for any shelter dog, the opportunity to have a forever home of their own.  The trick is not to get attached in that shadowy period between you've got them until they've got a good home and you've got them and don't ever want to let them go. Nearly impossible to do unless your heart can be dragged out and tucked back in with the greatest of ease.  Only after many foster dogs can the ache be minimized but I assure you even the strongest of foster Momma's shed a tear.
As for our darling, Tootsie I meant what I said about her status in the universe. As she has planted, so does she harvest; such is the field of karma. ~Sri Guru Granth Sahib