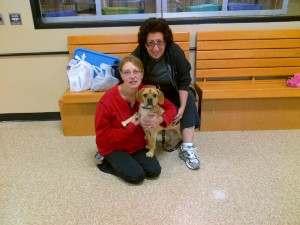 A "perfect storm" is an expression that describes an event where a rare combination of circumstances will aggravate a situation drastically. The term is also used to describe an actual phenomenon that happens to occur in such a confluence, resulting in an event of unusual magnitude (Webster).
So picture a friend of a friend who is moving on November 1st, a well-intended Mother who wants the best for her ADHD son, an adorable puggle who needs a home and you've got this past weekend. Along with Monday, Tuesday and Wednesday.  Doesn't sound like a lifetime but it damn near felt that way.
I'm that person that says, Let me see if I can help.  Please God, put your arm around my shoulders and your hand over my mouth.  Send out a few emails, see if anyone knows anyone and somehow my friend Ev says, hmmmmm.  Oh no you don't and I initiate a campaign to stop the rest of the what-if from coming out of her mouth.  You are not dog people.  You've never had a dog before.  It's a fifteen year commitment.  All those little mini vacations you like to go on would cost even more now.  Oh yeah, the expense can be astronomical.  You would have to keep everything super clean and off the floor.  There would have to be rules and boundaries.  Did I mention the expense?  I thought of her, and told her so, as I was writing the 217.00 check for Lina's UTI.  See….  I don't know if it's for you.  Yes I know that ADHD kids respond well to dogs but but but but but.  Oh my God how do I stop this?
I text my friend with the friend who is moving, is the dog still available?  Can they meet the dog? Yes they can.  I text Ev.  There is that moment that you absolutely know you've made a mistake.  The reply comes back, Daniel saw the message and is getting all excited.  Valuable lesson number one, do not let your kids near your GD phone, its personal.  Valuable lesson number one to me, never text Ev again.
Sunday 4:38pm the text reads:  Don't know how this happened but we now have a dog.  My reply, from the pit of my stomach: Not surprised in the least, good luck, take good care of little Chevy.
And downhill it went from there.  He's two years old, he has a ton of energy, he's walking them, he's over stimulated, and he's tearing up the dog bed.  OMG what have I done.
Tuesday 6am the text reads: We can't keep Chevy, nobody is sleeping, I have a rash and everybody is on edge.  It's sad but we can't. Of course the woman can't take him back, she's moving.  Send me a picture.  I send it out to all the people I know and get places to call and people to see.  We send out his picture, he is the cutest damn thing you ever saw.
Now I'm presenting at a meeting for the MINI group.  I happen to be sitting next to another dog person extraordinaire, Tonine.  We start texting back and forth about this little guy.  Now don't even start about us sitting next to each other texting, it's a meeting for God sake and this is really a crisis.   The inkling of the two Aunts team is beginning to hatch.
She knows someone who fosters, they know someone who has an agency, and pictures are sent.  People are getting excited about fast placement. And a plan is born.  The only thing we need are the Vet records.  The woman doesn't have them, can she get the name of the Vet.  I get my friend back involved.  It's all in motion but I need to get the dog out of that house.  I tell Ev I'm coming for the dog, ok she'll meet me there.
I get there a few minutes before her. Did she tell her family?  I don't think so because when I show up they're happy to see me…..then it hits them.  I'm taking the dog.  Everyone starts crying.  I'm ok with being the bad guy, truly I am, because the end result will be best for everyone.  I can assure you though that there is nothing more heart wrenching than watching a family in pain.  Ev, get your family in the house and close the door.
Off we go, Chevy and Aunt Sandi to meet up with Aunt Toots.  The plan, and God if it doesn't work we are screwed with a capital S, is to bring Chevy to her mother-in-laws back yard to meet Chloe.  Chloe is Tonine's dog who will be hosting Chevy at their house tonight.  We hope.  Should be fine.  Chloe loves other dogs.  How the hell are we going to pull this off?
I pick up Tonine, of course she loves Chevy, off we go to meet up with her husband and Chloe.  We get there first and let Chevy into the fully fenced backyard.  Have you ever seen the picture of the dog running with his ears flying in the wind all full of joy?  This was our little Chevy.  He ran and ran and fetched the ball.  Between Tonine and I we had him walking perfectly on the leash, sitting on command, bringing the ball back and fetching like a pro.  Then came Chloe.  I know you think it went bad but it just got better and better. They are playing like old pals. Thank you God, please put one in the owe you column.  Ok maybe more than one.
Tonine kept me posted through the evening with pictures and quips.  All was well at their house.  In my head I'm thinking….here we go again.  They are falling hard for this little cutey.
I finally get the Vet records and there are shots missing.  My Vet takes us in at a moment's notice, we bring Chevy for a quick exam and his shots and off we go to drop him off in Mt. Olive at the rescue.  But wait, my poor partner in crime is a mess.  I knew it…………………do I really have to take this dog away from a crying person AGAIN? Am I that heartless?  Apparently.
The drive was quiet with Tonine repeating "it's all good" as if it were a salve she could put on her heart.  Chevy is snuggling and telling a story and whimpering on occasion.  This is not going to be good.  Are you sure you can't keep him?
We arrive, we talk to the people at Eleventh Hour Rescue and they are wonderful.  There are people putting in applications according to Tonine's friend Jill.  It's all good, more salve.  More tissues, more second thoughts more emotion.  Another damn perfect storm.  Let's get a picture and then I'm taking you out of here.
So you think I made it all the way through without shedding a tear right?  Not a chance.  Toots and I walked arm in arm out the door and never looked back.  With tears running down our faces and hope in our hearts that our little Chevy would be in a forever home very very soon.
I gave Tonine a new mantra, "we did good today".  No good was going to come from anyone other than the two Aunts taking care of this.  No good was going to come from placing him in a shelter.  Our Karmic equity went off the charts today and I hope that she and I will never have to do anything like this again.  What I know like I know is that I truly hope that she and I will be friends for many years to come such is the love I have for her depth of feeling and selflessness.  What she knows about me is that I'm tough, I can do the hard stuff but am eternally grateful for the arm in arm walk and the solidarity of emotion she allowed me.
We thought that Two Aunts and a Chevy might be a great name for a rescue.  It would be, but not for us.