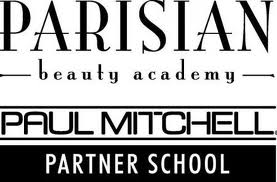 My sister and I found ourselves at Bergenfest (www.bergenhealthandlife.com/Bergenfest2012) last Thursday night through the generosity of Companion Animal Advocates (www.companionanimaladvocates.org) a charity I adore.  Bergenfest is a celebration of the best of Bergen County NJ with exhibits by many local businesses included Parisian Beauty Academy in Hackensack NJ.
There were several people dressed in black with varying degrees of tattoos and hair color wandering through the very thick crowds handing out flyers and coupons for salon services at the academy. To say they exuded enthusiasm is an understatement.  The academy is a Paul Mitchell Partner School which means:
It is a full-service educational program for cosmetology professionals, teaching a full array of body, hair and personal care services that provide lucrative employment opportunities for program graduates, in the salon, spa and business. The program features training in hair design, cutting and color, makeup, texture and bone structure. The Paul Mitchell Partner School Program trains future professionals and works with them in passing state board exams necessary for business certification (taken from their website).
So not two days before I was bitching about the cost of my haircuts and here I am with a flyer in my hand, a coupon and a chance to do something different.  I made my appointment, what is there to lose?  I know you're hearing the song from Grease in your head but not so fast.
Walking into the salon you are duly impressed by the design of the waiting area and immediately greeted by the staff behind the counter.  Had you made an appointment, what were you thinking of having done today, where did you hear about us? Oh how they wish they had been at Bergenfest on Thursday, just sayin.

Fill out the release. Yes there is a release.  This is a school, you'll be attended to by students, stay with me here.  You acknowledge such and will have the opportunity for a redo in a certain amount of time but I can assure you that won't be necessary.
You are greeted by your student stylist and escorted back to their station.  There a about 40 individual stations, there is fabulous lighting, I looked damn good back there, and enough energy to power all of Hackensack.  There is the bustle of a salon only more youthful, there is the chatter of a salon only more enthusiastic, and there is music just loud enough.  At one point Tom Petty's Free Fallin came over the speakers and literally everyone joined the chorus.  Good to see an entire room of mostly twenty somethings belting out Tom Petty.
On to the consultation with your stylist; they take some information, examine your hair, and discuss what you'd like to do.  They write it all down.  Then over comes the instructor to sign off.  They confirm what you're looking for and there is a lesson right on the spot.  Did the student get the client's wishes correctly?  Did the client convey their wishes correctly?  I got a very good lesson on how to convey my wishes and will use that lesson going forward; I had not really done a good enough job.
Off to the wash house, love that.  How do you prefer the temperature of the water, the pressure of your scalp massage?  When was the last time you were asked that, come on this is great stuff.   Back to the chair.  There is a moment of concern when your student stylist consults their diagram book to make sure they are parting and clipping your hair correctly before cutting but it's all in their quest to give you the best they can give.  Before she made one snip she conferred with the supervisor on what she was going to do and how she was going to do it.  He concurred; she exhaled and regained her confidence immediately.  Let us begin.  Handle the length first, on to the layers, check in with the supervisor and complete with product.
God knows one can't live without product and my student stylist was knowledgeable and enthusiastic about a new line for wavy/curly hair that had just come out.  I don't know if they get anything for selling the product but you know I was going to buy it.
Your student will walk you back to the desk, get your product for you, shake your hand and thank you for coming in.  You pay your bill for services rendered (which is very very nominal, my haircut cost $12.00) and the last thing they ask was how was your experience.
My experience at the Academy was wonderful.  My haircut was perfect, even though it took far longer than I expected it was perfect.  Be prepared to spend time when you go to the Academy, you are not only getting a service you are taking part in someone's education.  You have the opportunity to talk with them on a level that might make a difference in how they might speak to their clients going forward.  You can be encouraging in letting them take their time allowing them to confer with the supervisor.  You are allowing the supervisor the time to sneak in a lesson or two in real life, real time.  Your student will remember you if you are a pain in the ass or if you are a patient encouraging client, you decide.  I was grateful to have spent a wonderful afternoon with Kristina and Caesar, thank you both.
You can find the Parisian Beauty Academy online (http://parisian.paulmitchell.edu/hackensack-nj) and on Facebook (you know they want you to hit the LIKE).  Give them a try (I hear earlier in the week is less crazy but the crazy was fun too) it will make you smile all afternoon.