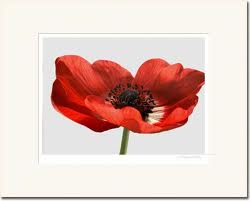 Did you realize the significance of those poppies the VFW are always giving away in exchange for a few dollars each Memorial Day?
In 1915, inspired by the poem "In Flanders Fields," Moina Michael replied with her own poem: 
We cherish too, the Poppy red
That grows on fields where valor led,
It seems to signal to the skies
That blood of heroes never dies.
Decoration day became Memorial Day in 1868 and was first observed on May 30th 1868.  Moina Michael conceived of the idea of wearing the red poppy on Memorial Day to honor the war dead of our nation. The VFW created the "Buddy Program" in 1922 and continued the practice of selling poppies made by disabled veterans who would be paid for their work to provide some financial assistance.  Moina Michael's image graced a 3cent stamp in 1948 as tribute to her contibution.
So what has Memorial day become?  After making Memorial Day the third Monday in May, it has become the "unofficial start of summer", a sale day, a three day holiday of barbeques and shore runs.  It is losing its meaning as a day to honor our war dead.  Not to honor those who served, that would be Veteran's Day, not to honor all the dead, really?  It is the day we honor those who made the ultimate sacrifice for our country and yes, for our freedom… to barbeque and shop and bake in the sun. 
In December 2000 the "National Moment of Remembrance" resolution was passed which asks that at 3 p.m. local time, for all Americans "To voluntarily and informally observe in their own way a Moment of remembrance and respect, pausing from whatever they are doing for a moment of silence or listening to 'Taps."
There is no more mournful sound then that of Taps, it will stop you in your tracks and bring tears to your eyes no matter how strong you are or how little you know of its origins.  It is a fitting tribute and the very least we can do in the sceme of what these heroes have done for us.