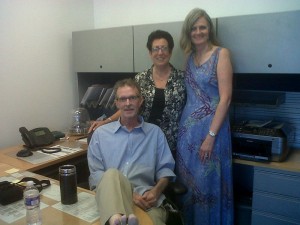 Today it was my honor to attend a reunion, of sorts, between my friend Jay and the colleagues he hasn't really seen since he'd been diagnosed with cancer. His cancer has since become terminal.  He visited his workplace and surprised (kind of, the word seemed to have gotten out) many of them in the midst of their workday.  They gathered around him in a mix of excitement, tentativeness and love.  This is a man truly well-loved and very much missed at this dealership.  This man is an anomaly; a gentleman in the car business. 
The word terminal hangs in the air without much belief to most, but Jay understands.  He has conversations with God and prays for solace and forgiveness.  All of which is unnecessary as Jay is not in any danger of being on God's bad side.  This is a true family man, a gentle soul who's guided many of these colleagues for dozens of years.  He will continue to pray, to drink his goji juice and exude optimism simply because that's who he is and he is, indeed, at peace.
He understands his peace is a blessing to him but he worries for those left behind.  The gentleness he showed to his colleagues as their emotions ran the gamut of excitement, sorrow, discomfort, and unease was as remarkable as any of us would have expected.  He was the comforter no longer needing to be comforted himself.
This is what I love about Jay.  Always pragmatic, always fully grounded in reality he just knows how to live and be in the world and when he does leave us we can take many lessons from him.  Love your family, live by example and leave the world a better place.
So there he was holding court, giving each person the attention they needed in a setting that gave him just a bit of "normal" to take home with him to the hospice nurses and the hospital bed.  Of course, I had to give him a bit of the car hag in me as just a bit more normal for him to laugh about and hold on to.
As for grace, thy name is Wanda.  I love meeting someone for the first time and knowing that we are already old friends.  I love being able to give someone something so personal and unrelated to their current circumstances that it will come to define their present anguish but transition to their future comfort. I will be here for Wanda well into the future whether she chooses to call on me or not.  I raise a glass to you my friend and look out over my enchanted forest with you in mind.
I will keep texting Jay and posting to their caring-bridge until there is really nothing left to say.  But I can hear Jay, a devoted Beatles fan, listening and knowing that his legacy and our love for him will indeed be spread across the universe.
Sounds of laughter shades of life
are ringing through my open ears
exciting and inviting me
Limitless undying love which
shines around me like a million suns
It calls me on and on across the universe…john Lennon